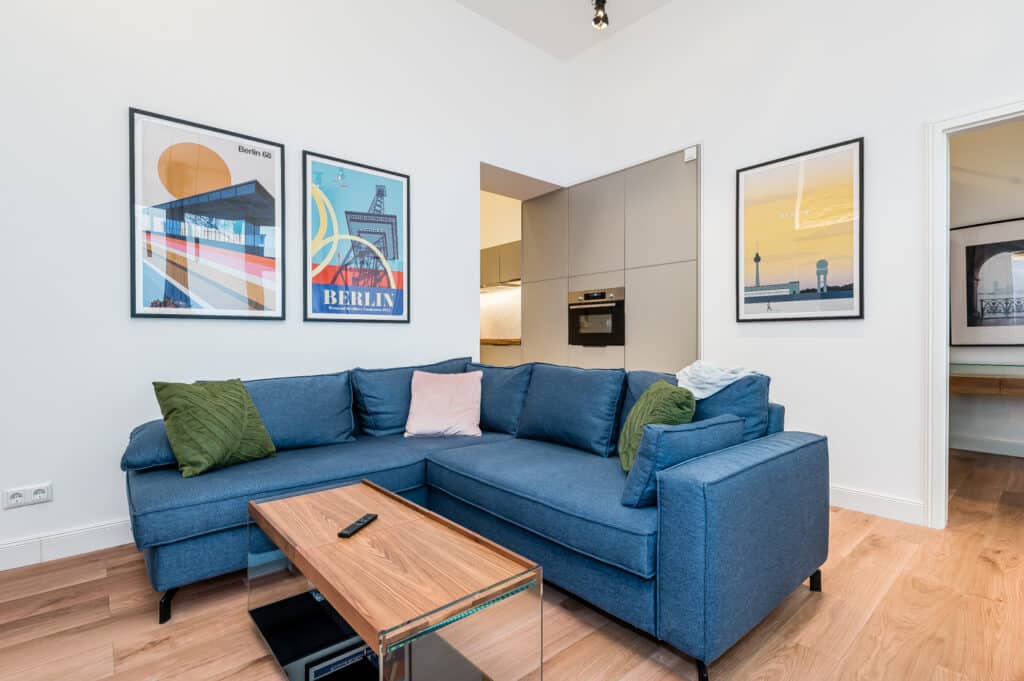 Holiday rental management
with Zeitgeist Berlin
Do you own a holiday apartment in Berlin that you would like to rent out to guests profitably, but shy away from the effort involved? Then we can help you!

Because the airbnb apartment management via Zeitgeist Berlin offers you an all-round carefree package, with which you don't have to worry about anything after handing over the keys to us. Find out here what service you and your guests can expect.
Manage vacation rental:
our services at a glance
The management of your apartment via Airbnb, Booking and other platforms is the core of our apartment management service. Because we really take care of everything: from photographing the apartment to pricing and booking management to guest communication and check-in and check-out. In addition, we also take care of the cleaning, the laundry service and, if necessary, small repair work that becomes necessary in the course of the rental.


In addition, you can expect the following services from us as part of the holiday home management:
Rental
Part of the holiday home management is of course also the profitable and legally compliant rental of your property. You should seek comprehensive advice for this, because regulations such as the Misappropriation Act in Berlin and other requirements should be taken into account, otherwise there is a risk of high fines. But don't worry, we at Zeitgeist Berlin are also professionals when it comes to these topics.
cleaning
The linchpin, so that your holiday apartment is also gladly booked, are positive reviews on relevant portals. In order to maintain this, it is important to always let the apartment clean and tidy to new guests. And if you cannot or do not want to take care of it yourself, we offer you the reliable cleaning of your holiday apartment in Berlin.
Have the holiday apartment managed:
You can count on these prices
If you would like to have your holiday home managed, then of course this will involve corresponding costs. However, the rental income and the gain in time that you enjoy through professional management through an agency far exceed the costs.
However, flat-rate quotations are neither professional nor sensible. Therefore, it is best to send us an inquiry directly and we will make you an offer based on facts such as the size and location of the apartment and calculate the actual administrative costs.
Your advantages in holiday home management
with Zeitgeist Berlin
Thanks to the support of more than 50 holiday apartments in Berlin, we at Zeitgeist Berlin not only have the necessary experience, but can also offer various additional services so that your guests feel completely at ease. All you have to do is place your property in our hands. This is how you benefit from the following advantages and services at Zeitgeist Berlin:


✓ Creation of an advertisement on common portals including professional photos
✓ professional pricing based on the market situation
✓ Takeover of guest communication
✓ Accessibility for guests in case of problems
✓ Basic and final cleaning including laundry service by our own cleaning staff
✓ Coordination of small craft services
✓ If necessary, installation of key boxes or electronic lock systems for handing over the keys
✓ On request: Purchase of consumables such as coffee, soaps or other toiletries.
Vacation rental management in 3 steps
If we have aroused your interest and you are now wondering how you can enjoy our holiday home management, then here are the three steps you need to take.
Get in touch with us – by phone, email or our own inquiry form. We strive to be easily accessible. However, if all lines are busy, we will be happy to call you back. We answer emails within a few days.
We will be happy to answer your open questions and explain all the important issues relating to the rental of holiday apartments and houses. In addition, we would of course be happy to explain our services to you again.
Enjoy the complete package
On request, we at Zeitgeist Berlin will take care of all the tasks for you that go hand in hand with renting out holiday accommodation in Berlin to guests. After you have given us your apartment keys and entrusted us with your property, you will benefit from all our services.
Vacation rental management
made easy
If you don't have the time and/or the necessary know-how to manage your holiday apartment or holiday home, we at Zeitgeist Berlin will be happy to help you. With us you benefit from an all-round carefree package that contains all the important services related to the management of holiday apartments. Let us advise you without obligation, so that you can only look forward to rental income and satisfied guests afterwards.
FAQs:
APARTMENT MANAGEMENT​
The management of holiday apartments only incurs costs when they are actually rented out, which are then only meaningful with regard to the size of the apartment and the location. You should therefore always seek professional advice, such as that offered by Zeitgeist Berlin, before you hire an agency to manage it.
Yes, you have to register your holiday home with the authorities. This is required by law in Germany.